Songs from our Guru Maa Smt. Chandana Chakraborty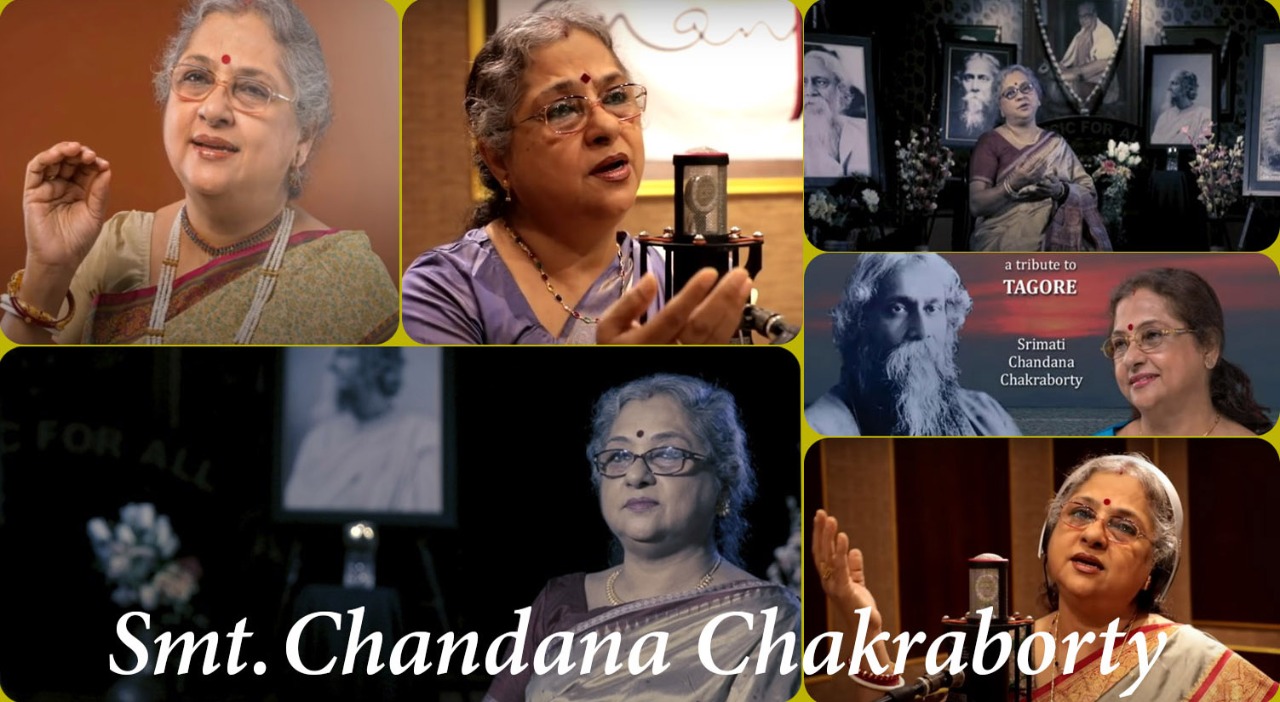 Songs from our Guru Maa Smt. Chandana Chakraborty
Smt Chandana Chakraborty was under the influence of the great poet from her young age. From childhood she was blessed to get acquaintance of Smt Kanika Bandhopadhyay and George Biswas at her house. She was awarded as the Gold medal student from Rabindra Bharati University.
She is the wife of Pandit Ajoy Chakraborty and is blessed with two children - Kaushiki and Ananjan who are the aspiring musicians of the present generation.
Here are some songs sung by our Guru Maa Smt. Chandana Chakraborty with her harmonious voice.
'Chinmoyee Maa' - is a song from the Album 'Nuton Kore Gorbo Thakur' by Smt Chandana Chakraborty. The Music Arrangement/Designing done by Pandit Ajoy Chakrabarty.
Shrutinandan presents Gurumaa - Smt. Chandana Chakraborty's rendition of Rabindra Sangeet - 'Joyo Tobo Bichitro Anondo'.
Music Direction: Pt. Ajoy Chakrabarty
Violins: Violin Brothers - Debshankar & Jyotishankar Roy
Vibraphone: Tapas Bhowmik
Orchestral Programming: Chakraborty Samrat
Mixing: Chakraborty Samrat
Recording and Mastering: Ananjan Chakraborty @ Studio Shrutinandan
Video: Anupam Das
Remembering Kobiguru Rabindra Nath Tagore on His 79th Death Anniversary. Our Guru Maa Smt. Chandana Chakraborty pays homage with the song 'Jibono Moroner Shimana Chharaye' to the Great Poet and Composer, addressing Him as the Eternal Friend Who is always with us beyond Life and Death. We request all of you to share this video to shower your Love and Respect for our GuruMaa and the Eternal Rabi Thakur.
'Shree Durga' - is another devotional song, sung by Smt. Chandana Chakraborty with her melodious voice.
Credits :
Lyrics - Sadhak Ramprasad Sen
Composition - Pandit Ajoy Chakrabarty
Violin - Durbadal Chatterjee
Flute - Rakesh Chaurasiya
Sitar - Rahul Chatterjee
Sarod - Pratyush Banerjee
Guitar & Bass - Shubhomoy Chowdhury
Sontoor - Sandeep Chatterjee
Tabla - Joy Nandy
Pakhwaaj - Pratap Awadh
Percussion - Sanjeebon Acharya
Audio Video Production - Team Shrutinandan
'Khuje Jaai Mone' - is an Original Bengali single, from the album Sur Prabaha by Ananjan Chakraborty sung by our Guruma Smt. Chandana Chakraborty, penned by Shri Kaushik Goswami, composed by Ananjan Chakraborty and arranged by Shri Prattyush Banerjee.
Rabindra Sangeet - Nutano Praano Daao
Singer - Smt Chandana Chakraborty
Lyrics and Composition - Kabiguru Rabindranath Tagore
Music Direction - Pt.Ajoy Chakrabarty
Slide guitar - Pt. Debashish Bhattacharya
Violin - Durbadal Chatterjee
Nylon String and Bass - Raja Chowdhury
Keyboard - Tanmoy Chatterjee
Mix and Master - @Ananjan_Chakraborty
Video - Anupam Das